Mental Health in the Christmas Rush
By Michael Davies
As the general public are winding down at the end of the year, navigating Christmas parties and office hangovers, we in hospitality work the hardest we'll work all year. We work at making people happy during the festive period with the things we love most: delicious food and drinks and tireless welcoming and generous service. Whilst we make sure to look after all of our guests, it's all too easy to run out of time for ourselves.
Christmas in hospitality is no joke. The first thing I thought of when I was asked to write this article is an old photo I have on my phone picturing two of the chefs from The Camberwell Arms asleep on the banquette in the back of the restaurants during a rare break in a December service. Take it whilst you can (rest that is) because tomorrow will be as busy as today, and the day after that will be no different. The idea of self-care at a time like Christmas in restaurants seems totally at odds with what is traditionally expected from staff of all levels at this time of year. But this outdated self-sacrificial work style, doesn't work. It's not sustainable, and it's at precisely this kind of time that it's most crucial to look after ourselves and those around us.
As I said in my last article, it's my belief that if we can't look after ourselves, we can't look after anyone else.
Although I don't believe there is a one size fits all approach to self-care in a busy time, whilst reflecting on how to approach this article it occurred to me that the following three things are, in my opinion, the most significant in terms of maintaining a harmonious relationship with work and a clear head in the run up to Christmas (or any busy period for that matter).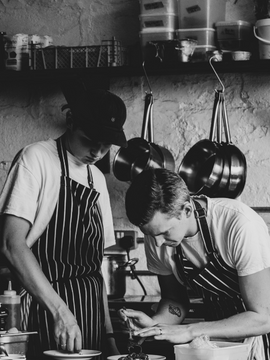 Time is the biggest luxury
It can be really tough to carve time for yourself when work is busy. But perhaps harder even than that is being too tired to use the days off you have to do anything other than recuperate. For me this begins with the value that we give ourselves, our sense of self-worth. Ultimately we have to value ourselves highly enough to see that the time we have outside of work is ours, and using it for things we like reaffirms that life can and should be joyful, something all too easily forgotten in the mayhem of Christmas.
Alongside this is the understanding that self-care can take many forms and doesn't always have to be super time consuming. If you can, it's amazing to take time for exercise or to get out into nature for walk, but it can also seem long and unachievable when you're comfortable at home and so in reality it might be a bit of a non-starter. Ultimately not putting pressure on yourself to do or be anything, and being honest about what is going to make you happy in that moment, is self-care in practice.
Busy is good
Sometimes the anticipation of hard work is harder than the work itself. As you build up to Christmas be aware that anxiety around what is in store can be a very real thing for some people. An open dialogue within the team is absolutely necessary (not just at Christmas but just as standard) to make sure that people don't feel alone going into a busy period. If we're well organised and plan ahead as best we can, busy doesn't have to mean difficult.
Good managers can lean into a busy time, taking comfort in the idea that everything you make will be sold, and the nuance of quieter times in terms of planning and ordering is one less thing to think about. It's a simple thing, but a little reassurance that being busy is good, can go a long way.
One team one dream
For me, one of the hardest aspects of being depressed has been the sense of accompanying loneliness and isolation that comes with occupying a darker, or the darkest, of headspaces. I am lucky to have a support network of loved ones and friends who have helped me when I've needed it. The way I see it, work, and the teams we work in, should be no different, especially when we're approaching Christmas. For me the single best way to enjoy Christmas in restaurants is celebrating being in a team. It's when people feel isolated that concerns about being busy come to the fore and sharing or communicating that feeling of being separate from things and alone can be hard.
There is a collective responsibility to support one another through the busy times. When we feel good we can radiate positivity into the team; when we're tired, and our feet hurt or we've just had enough, our colleagues will do the same for us. It's the self-perpetuating loop of care in action again: by looking after ourselves we can look out for those around us, and by extension everyone is in a better position to support everyone else and enjoy work, even at the most taxing points during the year.
Christmas in hospitality is a busy time, but it should be a great time. A triumphant celebration of everything we love, underpinned by self-respect, love and a care for those around us.