Mike Davies: How my own mental health journey shapes the working culture I strive to build
The decision to start your own business is a big one. A business, once opened, lives and breathes. Once just an idea, this fledgling, new-born concept needs YOU to stay alive.
Last year (2020) I had a mental breakdown. At the beginning of the year, I was due to start back at work and begin the process of restarting the Camberwell Arms and preparing for Frank's. I was physically anxious and at times it felt like an electric current was running through my jaw. I was suffering with anxiety induced hallucinations, waking nightmares, and I was depressed. Trapped by the apparent weight of the work that I had created for myself. Or so I felt.
I spent quite a lot of time thinking about whether I liked my job, and if I liked it, why? It occurred to me that making people happy with food and drink is a brilliant thing, and something that is at my core. But what also became apparent to me was that if I couldn't look after myself, then I couldn't look after others, and what is hospitality if not looking after others, welcoming them – and taking care of them.
Opening a new restaurant is very difficult. It's also a questionable choice whilst recovering from a breakdown, but here we are. I've done it. We had an unusually challenging time frame to deliver the project, more or less 6 months from the initial conversations to the delivery, but Mike's opened on April 13th 2021, one day after the easing of the second lock down.
Before you've done it, I think the idea of opening restaurants is great. You can immerse yourself in the development of ideas, design, menu planning and recipes – all of that brilliantly creative and fun stuff. You go through the build, you get to opening night… and instead of being a finale, it's just the beginning of the pressure – that's it, it's got to work. Not just for that night, not just for the first week, but ideally for years to come.
Each week can come at you with a new challenge and a new problem to fix. It's at those moments that we have to remind ourselves of the brilliance of the idea in the first place, and to bring it back to the reason we do what we do.
It is relentless, and it can leave very little time and space for taking care of yourself. From staff shortages and turnover, to blocked toilets and leaks, restaurants have it all. So it can be hard to focus on that when things are escalating, but you have to be disciplined, you have to have self-belief, and you have to have confidence that the idea you started with is going to come good.
I say this because I have struggled and continue to struggle at times with the pressures and realities of having opened a new restaurant. It hasn't been easy, and there is a long way to go, but I've got to remind myself to take pride in how far we have come so far.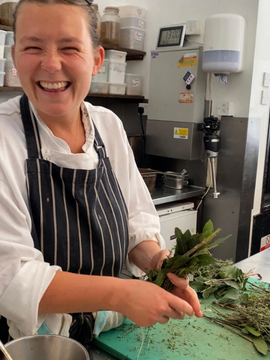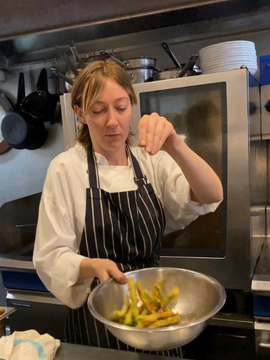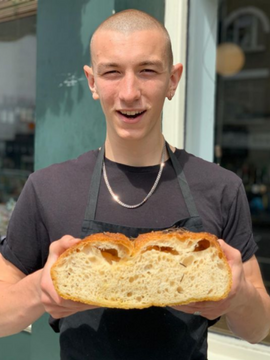 "Investing the time to nurture people and create an inclusive working environment is crucial to your own happiness and that of your staff"
Restaurants are a long game. I wish someone had told me before I started opening them. Good things take time, and during the time it takes you will work hard, and there will be ups and downs. Much like life, opening a restaurant is a journey. You won't always be happy, and things won't always go your way, but that's ok. There is no good without bad.
Happy staff make good restaurants good. As I said earlier, that starts with you making time for yourself, taking time for self-care and building boundaries with work. But beyond that, the people that work in the business have to feel that as well – and that comes from you. Ultimately looking after your staff is an extension of self-care in the workplace, investing the time to nurture people and create an inclusive working environment is crucial to your own happiness and that of your staff; and in my opinion it's also the thing that the customers feel above anything else.
I am still recovering. Honestly, this year has been extremely tough. But I'm fortunate to want to be alive, and to want to enjoy the life that I'm building. The final thing that I wanted to stress is that I love my restaurants and have worked (and will continue to work) very hard to get them to where they are. But I always try to remember that work is work – and life is everything. A restaurant can be a brilliant thing, but they come and go. The only way to get through it is to celebrate the good, but don't sweat the bad. If you love what you do, and you work hard to show people, it will come good… and if it doesn't, then that's ok too.