TOM ZAHIR BROWNE OF DECATUR: SH*T DEALS AND SHADY PEOPLE
TUNING IN TO YOUR VALUES, KNOWING YOUR WORTH AND HARNESSING THE POWER OF 'NO'.
Interview by Kitty Slydell-Cooper
"One day the roof blew off. Another I had a guy come and abuse me for an entire evening, then turn up three days later and hurl cans of Old Bay seasoning at us, shouting THIS GUY IS A DUPLICITOUS BASTARD. Security couldn't move him, so he stayed there throughout service. I admired his resolve".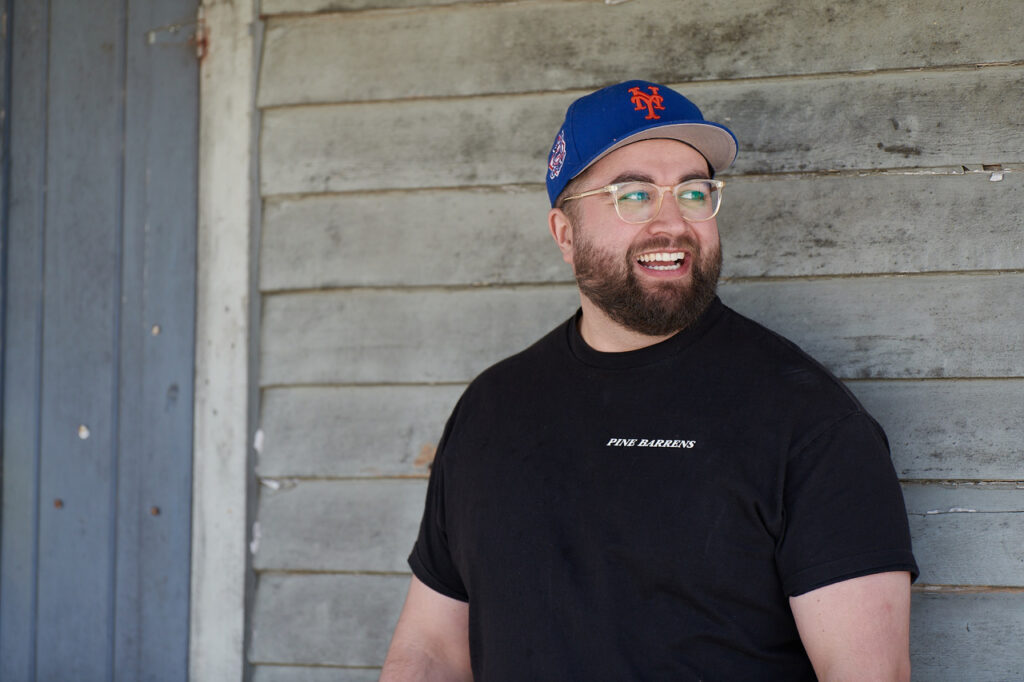 Tom of Decatur is a pop-up veteran, and with that comes an encyclopaedic knowledge of what can go wrong. He knows that some things – like strong winds and maniacs who take exception to your use of home-made Old Bay spice – are forces of nature, outside of your control. But he knows what you can control in your quest for things to go right.
And from the outside, things seem to have gone very right for Tom. His shrimp boils became a lockdown sensation, with alarms set nationwide for the blink-and-they're-gone online drops which sold out within seconds. At a time when we were all glued to our phones, the chilli-red, boil-strewn newspaper appeared constantly on our feeds, shrimp head debris piling up on the tables of everyone who was anyone. And for good reason – they are GOOD. Very good. Generous, incredibly fun with a sense of effortless occasion and – crucially – completely idiot-proof. And unlike many lockdown businesses, they continue to fly: "We still have people who order them every week. There's a Texan couple who have ordered them every Friday for a year". He now holds the keys to his own place, a railway arch in Leyton. The first ever space of his own.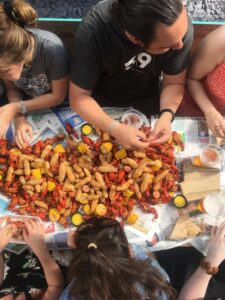 But that old adage of the gliding swan paddling furiously underwater could not be more true. That success was the culmination – or rather, another iteration – of years of hard work, of burn out and reconstruction, of mistakes made, lessons learned, and glorious triumphs.
Tom modestly denies that Pamela's success had anything to do with his presence, but later offers some sage advice for others: "Know your worth, and your value to a place in a space". Last year he spent a few months working for Kerb, the street-food collective and incubator, mentoring start-ups. He remembers: "People underestimate that value. They'll undersell themselves, whether that's pricing, or accepting deals that don't really work for them. If you have a great idea, and you do it really well, then you have a huge amount of leverage. And more so now than ever, there are so many places that want to make money off your hard work".
In 2015 when Tom first popped up at Pamela the residency concept was a relatively new one and the benefits – financial and reputational – were not so well known. This caused a power struggle. "They thought – everyone is coming in for a restaurant, but our staff want to be bartenders. They don't want to be running a service". Dishes which took days of complex processes and rare ingredients were handed to customers without explanation, there was resentment and a lack of control. "The GM and me were like this for a while" – he punches his fists together, a clashing of heads. But then that proof of value changed everything: "There was a moment where they were like, actually this is making us some money. Let's be okay with it". And as the accolades and customers rolled in they continued to be very okay with it indeed.
He left Pamela on a high and with a number of restaurant offers in his back pocket. He wanted more control than residencies had offered him, the ability to create the immersive experience and service that had always been his vision, and to have staff who were emotionally invested in the idea. The usual tribulations followed (a journey which will be all too familiar to many with the same ambitions); big promises which never materialised, or apologies when investors pulled out due to unrelated failed projects. The high mellowed – until he was approached by a developer with an incredible new location and an impressive line-up of businesses who would be his neighbours.
It was exciting. They were behind his ambitions for the space and the menu, a wood-burning grill across the back wall, crackling cornbread served fresh in cast iron skillets, étouffée and more, and he was able to push away his secret concerns – it felt like the wrong part of town, the wrong kind of build, the wrong kind of deal. A month before opening, Tom was told that none of those like-minded businesses were moving in after all. Instead the line-up would consist of a burger chain, a taco chain and a juice bar; identikit casual dining concepts with central processing kitchens, a far cry from the food-focused community he was promised. "Everyone was just using it as an offshoot to make money. Everyone had other sites, except me".
The money didn't materialise though. Tumbleweed blew through the neighbouring juice bar day after day, "they made about 50 quid a week". The site started falling apart "it was made of, like, chipboard", becoming increasingly unsafe (that's when the roof blew off) and increasingly badly managed (that's when security failed to remove the abusive customer), and still he was contractually committed to seven days of lunch and dinner. Trying to scrape some income, he was forced to dilute his original menu. Fried chicken sandwiches made an appearance "just to fill that gap and try to make some money". Without the cushion to pay extra staff, Tom was getting there at 7am and getting home at 11.30am, with just five hours' sleep a night and no time to decompress. Then came that that big bank holiday beer festival…
"We bought four or five thousand pounds' worth of live seafood, and the power failed across the whole site. We had these fridges with oysters, crayfish, crabs, all just dying. We were buying ice from the Tesco Local to try to save them, waiting for the power to come back on, and then the organisers announced – we can't open this weekend". Tom explains that if you're a burger chain and you're throwing away a few burgers in one of your 10 burger restaurants, it's meaningful, but it's fine. But for him, it was ruinous. "As a small business you're investing a little bit, spending a little bit, trying to save a little bit to grow. I had spent thousands because I thought we were going to have a massive weekend – and it all just went it the bin. It was devastating, and it wiped out months and months of profit".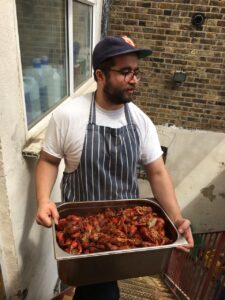 These experiences were crippling. Tom was financially crushed and describes the emotional fall-out with intensity: "after that I basically had PTSD and pretty bad depression which left me needing CBT. I was so stressed that I had alopecia in my beard – my beard just fell out. There was no enjoyment anymore. It went from a real high, an amazing year end with great reviews, busy, making money out of Christmas, moving with real energy to a restaurant space… to just being like, I don't want to do this anymore. I can't do this anymore".
Saying no, Tom believes, is just as important as saying yes. "Early on in your journey you say yes to a lot of shit, and it's probably an important part of the growing process to do that. Understanding your worth, understanding what deals are shit, which people are shady, which people are trying to take you for a ride and which people actually want to help. It takes a while". With the benefit of hindsight, with shit deals and shady people now a part of Decatur's own history, how does he suggest others make those big yes vs. no decisions?  "If I could sit there and mentor my old self, I would be like… don't do that. It doesn't hit your values. Being aware of what your brand values are, what your business values are and what your personal values are, and working out from day one how they relate to what you're doing, that's so important." He points out that it feels easier to retrofit those values when you're already well on your way, but it will save you a lot of grief along the road if you work out your priorities and your deal-breakers early on – and stick to them.
It sounds like a brutal come-down. But it was an ardent belief in those values, and a well-placed confidence in their worth to others, that carried Decatur through. Tom has just taken a trip to New Orleans to immerse himself in the culture and cooking which sparked his passion in the first place, when he went there on tour with his friend's punk band and ended up staying for three years. While back there, he took time to research and relax after a whirlwind few years – the highs of Pamela, the crushing lows, back up to the dizzy highs of lockdown success and all the moments in between – to realign his head, and to figure out his next steps.
Perhaps with a painful reference to the (excellent) chicken sandwiches which adulterated the dying days of that chipboard disaster, he considers: "when we were doing the street food thing, if we had thought oh, we're not making any money selling this gumbo or this regional Southern food that no one outside the South really knows, we'll just do fried chicken sandwiches in brioche buns, then there would have been no longevity to what we've done. Don't just chase the money. Don't chase the thing that other people are doing, that you think might make you a buck. Figure out who you are, figure out what your idea is, and be really true to it. Because when you do it well, you stand out. And you have customers who really care about your business because you're doing something that has meaning to them".
The keys jangling in Tom's hand, the keys to his new railway arch, are proof that Decatur has meaning to its customers. Proof that the clarity of vision – and of values – works. Decatur is a success story, but what success looks like has to be self-defined. "If you look on social media, you can get into those holes that everyone gets into. Like, I'm not doing as well as them or whatever. But it's a long fucking path, and people who accelerate and get there quickly are the exception to the rule. It takes a long time to build a business and an idea that works. I've been in a lot of situations where I've been made a mug of.  I'm not going to let that happen again, and I'm going to grow in a way that feels right. It's taken time, but I'm comfortable with that now".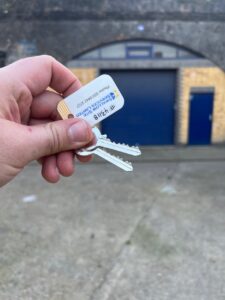 Has he given up on that ambition to have a bricks-and-mortar space of a more classic kind – an actual restaurant? Perhaps or perhaps not, but he explains that the restaurant as a physical entity is just not that relevant to his vision. What he wants is a space where people can interact with Decatur, "but what I've found is that actually, hospitality doesn't just have to mean a restaurant, or even a takeaway. It can mean the way that you interact with your customers, and the way that you make a positive influence on their day. Every time you go out of your way to make sure somebody gets a kit for their birthday, or celebration, or delivering something locally outside of our usual times".
And if he does decide to open that space? The place he was promised, with that big grill and heart-felt menu, an immersive experience uncompromisingly driven by his own visions? "I'm sure that if we become more than just a website where people order a shrimp boil from, and we become a restaurant, those people we nurture now will be some of our best customers. Because we've given them that joy. There's no real right way to do it. As long as you're pushing forwards with your values, then people will get it".
And Tom has proved that people very much get it. He's got great plans ahead, and people are excited. Decatur shows that it's not so much about learning from your mistakes, it's about using those values to tune in to a path that's right for you – and ruling out the wrong path is just as important, as Tom has found. "A lot of businesses would have opened their prep kitchen straight away, or opened their first restaurant immediately, and learned on the job. And that's great. For me, it's taken 8 years to get to my first place that I've owned the keys for, and it feels so fucking dope. Like the future is going to be dope, because I've got a great foundation".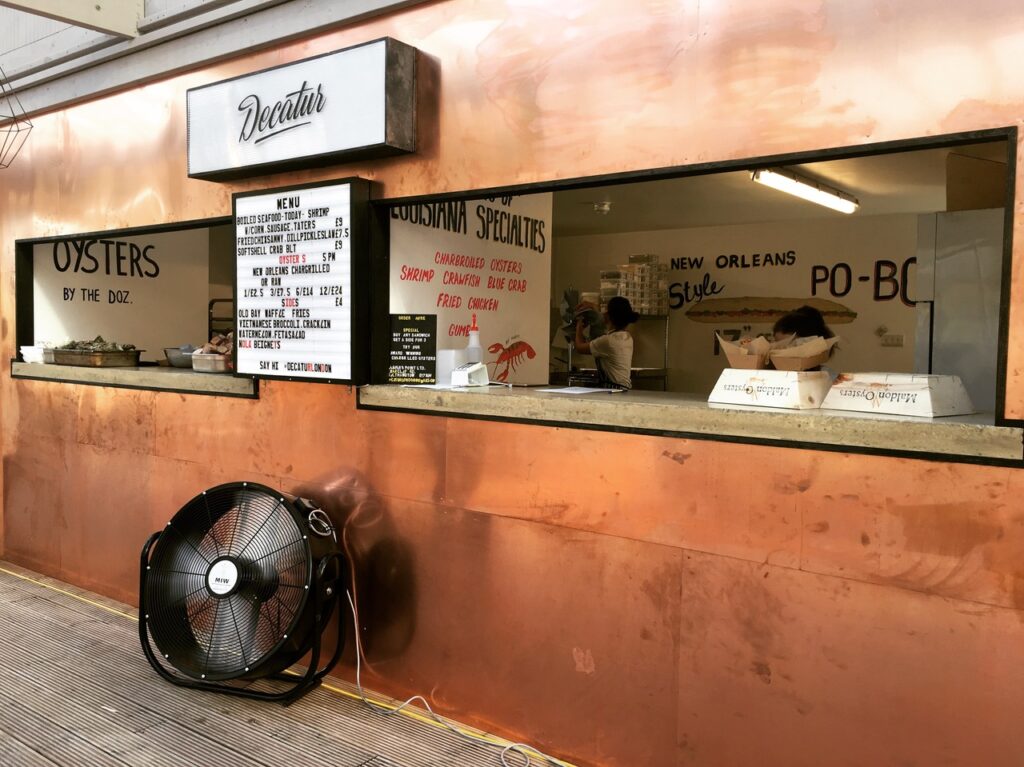 P.S. if you've never ordered a Decatur kit, you're missing out in a huge way.  Get yours here: https://decaturlondon.com