Food chains are broken
This could help fix them.
When we talk about sustainability in our industry, we frequently do it alongside pictures of fluffy rare breeds roaming free over rugged countryside, or wide-eyed visiting chefs walking through verdant vegetable-filled greenhouses. The glamorous stuff. The stuff that is simple to convey.
But, as suppliers and company owners all know (and as consumers are increasingly aware, particularly due to conversations around rising costs), food supply chains are hugely complicated. Within those complicated structures are a plethora of opportunities to compromise the sustainability of the initial product.
That's something few of us consider – it's complex and expensive to address, and it just doesn't have the glamour, accessibility and simplicity of message offered by a picture of a field of happy hens. 
How do those happy hens reach our kitchen fridges? The farmer may care deeply about their land and their animals, but they face a problem when it comes to reaching those forward-thinking restaurants who care just the same. Your small-scale farmer may be driving their produce to all those caring restaurants in an old diesel van, making multiple stops between short distances. Those working on a larger scale might resort to a traditional wholesaler to manage the logistics; fleets of lorries arrive in the city at rush hour, spending all day on the road, keeping food cool on diesel-powered fridges. That contributes to traffic, congestion, and levels of carbon emissions that are at direct odds with the intentions and ethos of both the supplier and the consumer. It's an uncomfortable fact that sustainability costs money. But what if it wasn't up to them to shoulder that burden? 
We so often think of our industry as being a community. In a true community, collective problems are solved through collaboration.
With strength in numbers, the solutions can be so much more imaginative – and so much more effective. The environmental impact of the last-mile delivery is something that Collectiv Food focuses on, and in working towards a lower-impact solution we found that they've solved other things too.

Founder Jeremy has a background in forensic accounting in Paris, when a food wholesale investigation left him struck at the state of supply chains – littered with opacity and malpractice, with little benefit to the producers and suppliers. All too often both farmers and restaurants have no access to the journey that their food goes through, from how and where it is produced to how and where it is enjoyed. That means a hugely fragmented supply chain, and it means that farmers and restaurants sit at different sides of the table.

Jeremy started Collectiv Food to put everyone back on the same side of the table, where they belong. It acts as the antidote to the fractured model, connecting producers directly with restaurants, cutting out wholesalers with high profit margins and sharing detailed information with their customers about every aspect of the production process, to empower them to make truly informed decisions about their buying, and the impact of their menus. Their constant focus is on fairness, transparency, traceability and sustainability. 
The model is simple – producers deliver their products to a distribution hub just outside of London, based on Collectiv's orders.
This 'just in time' model ensures minimum stock holding and wastage, and maximum freshness. From there, the consolidated orders are delivered to local 'PODs', refrigerated containers placed in key urban locations to avoid traffic and reduce emissions. Finally, the individual orders are collected by cargo bikes, electric vans and greener last-mile partners then delivered to your kitchen – the final mile.
Costs to the producers are lower, without the burden of complex distribution. Costs to the customers are lower, saving with collective bulk ordering and ensuring freshness, traceability and quality. Costs to the planet are lower, with up to 50% less CO2 and particulate matter emissions.  Producers, from small-scale artisans to established farms, receive support in access and promotion to new markets who share their values. It's true strength in numbers, and a strength that benefits everyone – on both sides.
THE BUTCHER
Online Butcher Farmison & Co's story is tied to the Fells and Dales of Cumbria and Yorkshire. It was here John Pallagi and Lee Simmonds, both restaurateurs at the time, realised that the incredible animals that were reared in small-scale farms all around them deserved a wider audience. Without champions like John and Lee, working with Collectiv Food, the costs of getting their meat to the restaurants who enjoy it would be prohibitive. They work with a little community of local farmers – among them David, of Nook Farm.
David's farming knowledge and intuition is something that cannot be taught, but rather gained from growing up and working on a farm his whole life. His cattle are everything to him and he protects their welfare through every step of his work, never rushing cattle to maturity or cutting corners. He describes his process as "old fashioned" and a "balancing act", but the modern term for this is regenerative agriculture, a conservative approach to farming that focuses on topsoil regeneration and increasing the biodiversity around his farm, working in a way that not only protects his herd right now, but preserves his land for the next generation. He's passed this knowledge and passion to his son Carl, and together they proudly run the farm with zero carbon impact, adhering to strict regulations according to Higher Stewardship Programmes, preserving and monitoring key species of wildflowers and the returning wild birds and insects which feed on them. 
Supporting native-breed farms like this is about so much more than the flavourful meat in their walk-in, it's about preserving precious ecosystems and protecting our British heritage breeds which would otherwise be lost.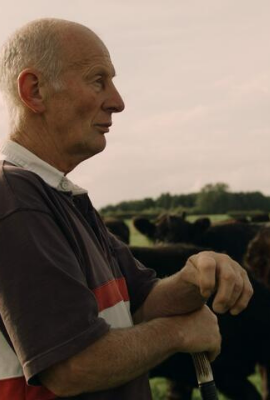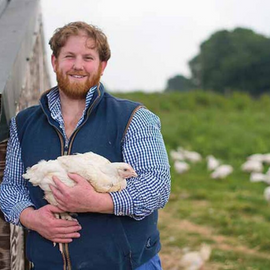 THE POULTRY FARMER
Stu is the third generation of farmers at Castlemead in Somerset. It was the somewhat unusual 6th-birthday gift of 12 chickens that sparked his lifelong passion, and his introduction into the family farm. 
The chickens that Stu rears now live much the same life as the ones he had as a child – they root around beneath shady trees and scratch in tussocky, rolling fields, feasting on bugs, grubs, herbs and nettles. Supermarket birds, pallid and flabby in their plastic trays, are typically killed at 30 days old – Stu's birds enjoy their free-roaming lifestyle for around 70 days, giving a glorious depth of flavour. The additional and worthwhile expense of a longer life is partially offset by all the processing (butchery, packing) taking place in-house – and that means zero food miles, too.
Stu can then take his incredible quality birds and, rather than hand them over into the opaque hands of a traditional wholesaler with polluting delivery, rely on Collectiv Food to deliver them in a way that reflects their true worth, to establishments who really appreciate and value what they do. 
THE PLANT-BASED PRODUCER
Driando grew up on Java Island in Indonesia, eating tempeh everyday throughout his childhood. As it was such a local staple, he took it for granted, assuming food as naturally nutritious and delicious as tempeh could be found all over the world. 
It was only when he started studying food science at university that he realised what a unique and extraordinary food tempeh was – made of just three simple ingredients, packed with so many benefits and rich flavour, there was nothing else like it. Travelling around Indonesia, he began to realise what a profound impact eating this miracle food could have on malnourished communities. 
This inspired him to do a PhD in tempeh fermentation and its positive impact on human health – through the fermentation process, a range of crops increase their protein content, decrease their carb content and become complete protein sources. With this in mind Driando set up a charity with his mother and grandfather to promote tempeh in Indonesia and further afield, called the Indonesian Tempe Movement. Educating people on how to make tempeh means that even with just access to raw crops, they're able to create a complete protein source on an ongoing basis. 
And along with his friends Chris, Fabio and Elin, he set up Better Nature Tempeh. This values-driven approach is key to the criteria that Collectiv Food use to select their partners, because they know that it matters to their clients.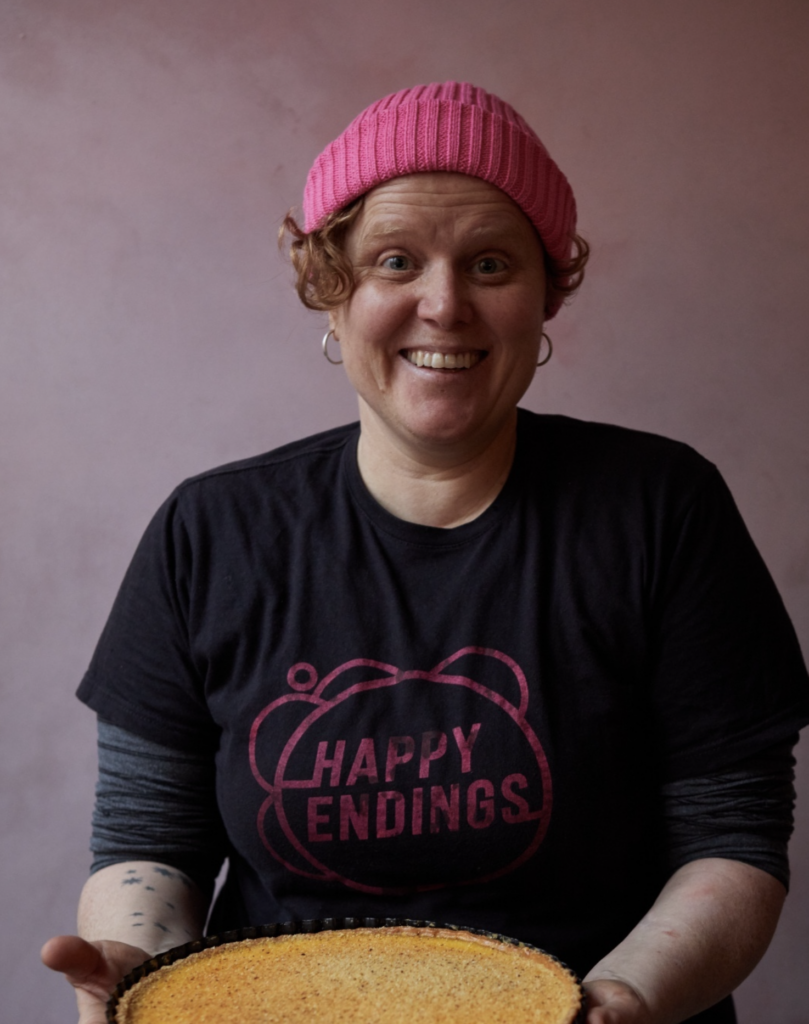 THE ICE CREAM PRODUCER
Terri of Happy Endings knows that ice cream is more than just a dessert, it's a direct route to someone's memories, nostalgia and emotion. Ice cream means happiness, and anything that gets in the way of that happiness is something that compromises the experience. She views living their values as an integral part of the product, not just a nice-to-have – and that needs to stay consistent right the way through their supply chain, because it's not just about the happiness of the final bite, it's about happiness all the way up to source.
They care about guaranteeing a sustainable income for the Congolese women who make the chocolate they use in their ice-cream sandwiches. They need to know that their dairy supplier is committed to a single-farm-gate approach to his herd of cattle, staying small-scale and regenerative. They select their vanilla bean supplier based on the education programmes in place to empower the local community. And of course, trained Pastry Chef Terri cares deeply about fostering a forward-thinking culture of diversity and inclusivity within her own East London kitchen: "Everybody eats ice cream, so everybody should be able to make ice cream".
For Terri, Collectiv Food's ability to continue those values right through to the final stage of supply is a given – they just don't work with companies who don't share their ethos. That knowledge leaves her free to focus on the benefits that they bring to her working practice: 
"The efficiency of Collectiv's logistics model has taken a massive weight off our shoulders. The benefit doesn't only extend to us, it also makes our customers' lives easier, so it's a win-win."
To find out more about how you can get involved, either as a customer or a producer,